Our Products
Possibility of Kumano Brush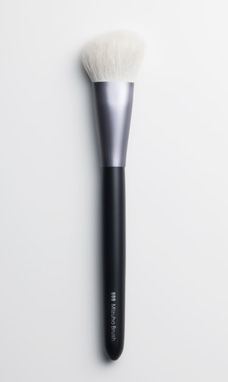 Makeup Brush
Makeup brushes are the main products of Mizuho, and are admired by makeup artists and cosmetic brands around the world.
There are many different hair types with various degrees of suppleness and softness. The selection of the proper type is essential to enhance the function of each particular brush.
Hair, such as goat, squirrel, weasel and pony are the main types. To understand the characteristics of the hair depends on the habitat and site, and requires care to determine a singular hair or blend of hairs. Through the synthesis of quality hair and hand crafting, we achieve the essential brush for delicate skin.
photo : MB113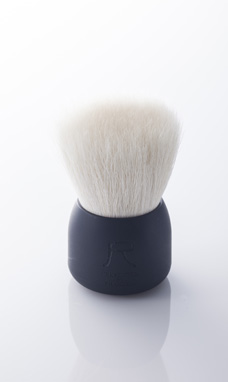 Cleansing Brush
Mizuho cleansing brush has gained strong support for superior washing because it utilizes a soft brush tip and suppleness to the natural features of the skin.
The nose cleansing brush is our original and new product idea.
Combining aesthetic and performance, we elegantly and simply present a lineup of face cleansing brushes in a style unique to Japan.
photo : W003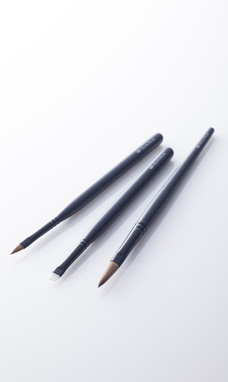 Nail design Brush
Recently, nail design has been attracting attention not only in Japan but to women around the world.
Many manicurists have been using art brushes, when they needed a brush designed to draw beautiful nail art. At Mizuho, we manufacture and develop nail design brushes which are accurate in details of elasticity, cohesive tip, handle shape and length.
In Europe and Japan, it is the brush of choice for working professionals in nail art.
photo : [Left] N011 / [Middle] N017 / [Right] N010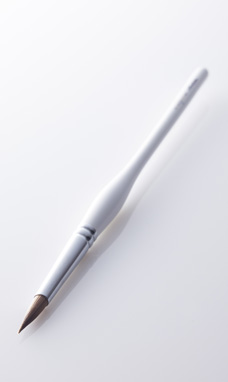 Dental Porcelain Brush
When dental technicians make a prosthesis, there is a build-up process and it is one of the most important steps.
This process involves applying porcelain to attain the original shape of the teeth.
High technology is needed to reproduce the color and texture of the teeth.
Originally the technician used a brush that was inadequate. They substituted a high quality art brush to get better results.
Mizuho examined their needs and accepted the challenge to develop a brush specifically designed for dental prosthesis designing. Consideration for a cohesive tip, hair elasticity, contour of brush shape and ease to hold led to a proto type that was made and tested. As a result many experts expressed interest at display shows.
Currently we have begun production of this brush and it has been accepted not only by professionals but also by dental technician schools and is now their official brand brush.
photo : PO3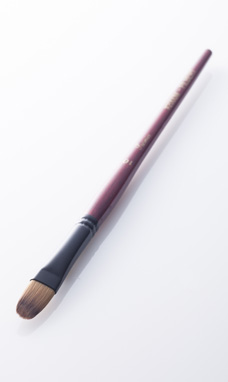 Watercolor brush・Plastic Model Brush
We produce a wide range of fine watercolor brushes such as tolepainting or general-purpose products.
We also produce plastic model brushes and figurine brushes modified from the standard art brush.
We calculate the amount of hair based on paint holding ability and the ease of control of brush pressure, and that result in the best tip to paint 3 dimensional objects.
photo : OV10