About us
Corporate Philosophy
Our corporate philosophy is the continuation of traditional craftsmanship and age old techniques, as well as, the development and distribution to market of outstanding quality brushes.
We offer our brushes with grace and color to the heart of the people and their life, and we believe that this contributes to society.
Origin of Mizuho company name
The company name, "Mizuho" simply means "fresh ears of rice". "Mizuho" also appears in old books (called Kojiki) written in 7th Century Japan, mentioning, "Japan is a rich country in which can be seen plenty of ears of rice crops in the fields now and forever". Thus, "Mizuho" is interpreted as a respected word in Japan. Just as the ears of rice are the vital part of the rice crop, The hair tip is the most vital part of make-up brushes made in "Kumano, Japan". At Mizuho Brush Company, our employees manufacture brushes with the same principle as "fresh ears of rice"
The advantage and charm of Mizuho brush
Reputable brush making supported by traditional techniques
Brushes are manufactured at Mizuho from the fundamental materials up to where they are ready for shipping. This allows us the advantage of complete quality inspection from start to finish. Hair selection and hair dressing are two crucial steps in this process of brush making, and both require exceptional skill and experience which have been developed and nourished in Kumano for nearly 2 centuries. We differentiate ourselves through our technological advantage which allows us to create our own brush molds as well(to our customers modification).
We value brush making with a fully integrated in-house system, one of the few manufacturers of Kumanofude Brushes.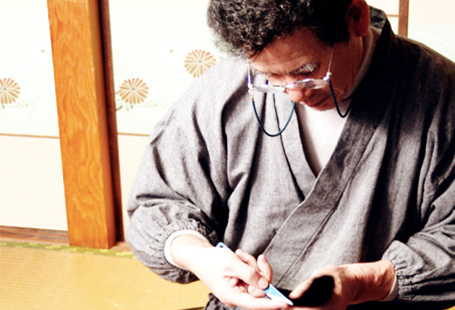 Traditional techniques for innovative brush making
At Mizuho, through the use of traditional techniques and prioritizing customer needs, brushes are produced to suit various people's needs. We focus on by whom and where the brushes may be used. With clear product vision, we consider brush characteristics from various angles to achieve customer requirements, and thus are in a constant state of innovation.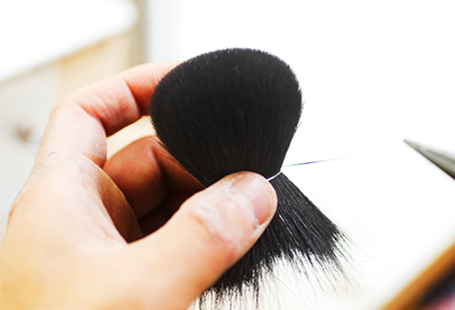 Kumanofude brushes and our approach to the world
Brushes have developed as an assisting tool of the hand, however in today's world, they take the role of bringing color into the user's lifestyle and provide support in the artistic culture of Japan. While inheriting and protecting the longevity of the brush making techniques, Mizuho constantly explores new possibilities with the brushes to respond to customer lifestyle.